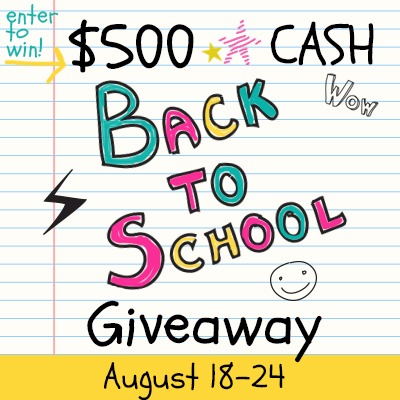 $500 PayPal Cash Giveaway
If you've got kids, either they've already gone back to school or they will be going back any day now. Considering all the school supplies, new clothes, shoes, and activity fees, we bet you could use $500 IN CASH right about now.
Well, we pulled together a group of 10 bloggers for an AMAZING GIVEAWAY to help you out not only with the CASH, but also with a whole bunch of back to school resources on everything from school lunches, printables, quick weeknight meals, fun back to school projects and even some much needed parenting inspiration.
So, go ahead and take a little blog tour checking out all our creative, clever and useful ideas for back to school and gain entries to WIN along the way! We're all looking forward to meeting you and welcoming you into our online communities.
Be Sure To Stop By the Blogs Often This Week For New Posts About Back To School And
To Collect As Many Entries As Possible So You Increase Your Chances Of Winning!!!!